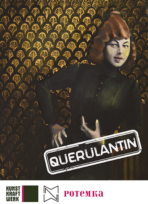 posted in 27/06/20
Querulantin – eine Hommage an Elsa Asenijeff
Konzipiert und kuratiert von Claudia Loclair und Lu Potemka; in Kooperation mit dem MalerinnenNetzwerk Berlin–Leipzig und dem Kunstkraftwerk Leipzig
Künstlerinnen: Alex Tennigkeit, Anija Seedler, Carina Linge, Claudia Loclair, Corinne von Lebusa, Franziska Güttler, Kathrin Landa, Kathrin Thiele, Nina R. Jurk, Sabine Graf, Tanja Selzer, Tobia König
Die Ausstellung findet statt an zwei Orten:
Kunstkraftwerk Leipzig
Vernissage: Fr 3. Juli 2020, 19 h
Ausstellung: 4. Juli – 2. August 2020
Galerie Potemka
Vernissage: Sa 4. Juli 2020, 19 h
Ausstellung: 5. Juli – 16. August 2020

posted in 26/06/20
Kunst im öffentlichen Raum
Zur Fertigstellung und Übergabe des Gesamtwerks an die Öffentlichkeit lädt "Spectrum-Kultur" am Freitag, den 17. Juli 2020, um 11 Uhr vor die Stadtbücherei Tettnang.
Doppel-Werk: De Fellrath "la macchia", Alex Tennigkeit "Ouroboros City Tattoo";
Mischtechnik auf PVC-Folie
Gefördert von der Bürgerstiftung Tettnang
Um Anmeldung wird gebeten, unter 07542-510162 oder simone.habeck@tettnang.de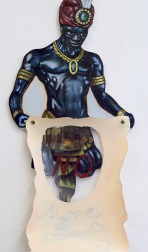 posted in 27/11/19
"PEACE – dont make me laugh // You A Two Minute Brother"
ONE NIGHT GROUP SHOW – Friday, 29.11.2019, 19:00
Spor Klübü, Freienwalder Str. 31, 13359 Berlin (U8 Pankstr./S Bornholmerstr.)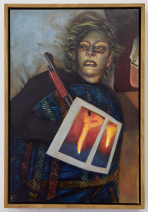 posted in 20/09/19
CRYSTAL CLEAR | PARALLEL VIENNA 2019
Project Statement at PARALLEL VIENNA artfair 2019 of MNW MalerinnenNetzWerk Berlin-Leipzig / Women Painters' Network
Eva Schwab, Alex Tennigkeit, Ann-Katrin Schaffner Kathrin Landa, Catherine Lorent, Justine Otto, Tanja Selzer, Isabelle Dutoit, Sophie von Stillfried, Miriam Vlaming, Heike Kelter
Preview: (by invitation only): Tuesday Sept. 24th, 12pm – 5pm
Opening (public): Tuesday Sept. 24th, 5pm – 10pm, 10pm
Opening Party Opening Times: Sept. 25th – Sept. 29th, 12pm – 7pm
Location: Lassallestraße 5, 1020 Vienna, Austria

posted in 27/08/19
OPEN STUDIO
WHEN: Friday, September 6th, 18 h – Open End
WHAT Open Studio, featuring Brigitta Bogenschütz
WHY: 12. Lange Nacht der Bilder in Lichtenberg (18 – 24 h)
WHERE: Studios-ID, Genslerstraße 13-13A, 13055 Berlin; House X, Entrance C, Studio 142

posted in 02/06/19
Auf Herz und Nieren
30. Juni – 29. September 2019
kuratiert von Marco Hompes
Die Ausstellung wirft einen Blick ins Innere des menschlichen Körpers. Die ausgestellten Werke zeugen von einem zeitgenössischen künstlerischen Interesse an unseren inneren Organen, dem verborgenen Teil des menschlichen Körper und dessen Veränderungen durch moderne Technologien.
Mit Werken von: Ed Atkins / Ulrich Blum / Mariechen Danz / Birgit Dieker / Stine Deja / Nick Ervinck / Alastair Gibson / Zoë Hough / Klaus Illi /Anna Jermolaewa / Sofie Layton / Marie Munk / Thomas Struth / Alex Tennigkeit / Ivonne Thein / Michael von Brentano
Museum Villa Rot, Schloßweg 2, 88483 Burgrieden

posted in 10/05/19
"…und schließlich doch AD ASTRA"
Freitag, 12. Juli, 18 Uhr, Sa. 13. & So 14. Juli, 12 – 20 Uhr
" (…) Sind es nicht doch gerade die "Fehler" und Zufälle, die außergewöhnliche Entscheidungen fordern und ein verloren geglaubtes Werk so besonders und einzigartig machen, eben es schließlich doch – AD ASTRA führen?"
Eingeladen von Julia Rüther findet die Ausstellung parallel zum Rundgang an der UdK Berlin statt.
Elisa Bauer Emanuel Bernstone Ina Bierstedt Clara Brörmann Ondrej Drescher Sven-Ole Frahm Andrea Hartinger Christian Hellmich Jasmine Justice Heike Kelter Catherine Lorent Michael Luther Sandra Meisel Julia Rüther Heiko Sievers Alex Tennigkeit Elmar Vestner Miriam Vlaming Viktoria Volozhynska SpecialGuest: Mäki Closch
Universität der Künste Berlin, Werkstatt für Mal- und Materialtechnik (Raum 075), Hardenbergstraße 33, 10623 Berlin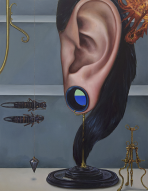 posted in 23/04/19
Open Studio
Brigitta Bogenschütz ° Catherine Lorent ° Alex Tennigkeit
feat. MNW°°
°° Portfolio with original drawings of the members of MalerinnenNetzWerk Berlin-Leipzig
OPEN STUDIO:
Saturday April 27 2019  2 – 6 pm
Sunday April 28 2019  12 – 5 pm
Atelierhaus 79 House 79 2d Floor 
Wilhelminenhofstraße 83-85
12459 Berlin-Oberschöneweide
Contact: 0176 38290356
S-Bahn Schöneweide + Tram (2 stops to Wilhelminenhofstr./Edisonstr.)

posted in 22/02/19
Wundersame Welten
Ausstellungsdauer: 01.03. – 20.04.2019
Eröffnung: Freitag, 01. März 2019, 19 – 21 Uhr. Die Eröffnung findet in der Galerie Michael Haas und im Kunst Lager Haas statt.

posted in 08/01/19
VOIX | Museum der bildenden Künste, Leipzig
Opening: Tuesday, 19.2.2019 , 6 pm
Book presentation // Save the Date //  22.3.2019, 8:30 pm
MalerinnenNetzWerk Berlin-Leipzig (MNW), which was established in spring 2015, organises frequent exhibitions and is committed to professional networking among its all-women painter members. Spread over the entire basement floor at MdbK, the 28 female artists will present the full range of their medial work for the first time in an exhibition that was specifically conceived for the museum and that will feature drawings, installations, sculptures, objects and spatial interventions, in addition to the main focus on painted works.