Author Archives: wp-admin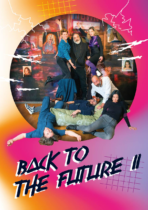 posted in 28/02/23
Back to the Future II
Das Aambulanz-Kollektiv zu Gast in der Studio Galerie des Haus am Lützowplatz, kuratiert von Katharina Schilling.
18. MÄRZ – 10. APRIL 2023*
Eröffnung: Freitag, 17. März 2023, 19 Uhr
Das Aambulanz-Kollektiv gründete sich 2020, im ersten Jahr der Corona-Pandemie, um gegen die Isolation und Tristesse des neuen Künstler*innenalltags ein Zeichen zu setzten. Für die Ausstellung BACK TO THE FUTURE II begeben sich die Kollektivmitglieder genau wie die Teenager Marty McFly und Dr. Emmett L. "Doc" Brown in der gleichnamigen legendären Fiction-Film-Trilogie "Zurück in die Zukunft" auf eine Zeitreise, die sie sowohl in die Vergangenheit als auch in die Zukunft führt.
Zur Ausstellung erscheint ein Katalog.
*Vom 20. – 30.3.2023 ist das Haus am Lützowplatz wegen Ausstellungsumbau in der Großen Galerie geschlossen!
Haus am Lützowplatz (HaL), Studio Galerie, Lützowplatz 9, 10785 Berlin, T +49 30 261 38 05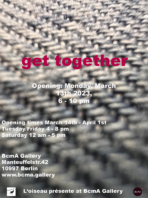 posted in 28/02/23
'get together'
L'oiseau présente – an artists' initiative by Anke Völk and Nicola Staeglich – invites you to a "get together" at BcmA Gallery!
The title of the exhibition with 60 artists is concept: the specific selection of artistic positions sets the works in a productive dialogue and creates the forum to exchange ideas and enter into conversation.
Opening: Monday March 13th 2023, 6 – 10 pm
Finissage: Saturday, April 1st 2023, 6 – 10 pm
Opening times March 14th – April 1st
Tuesday/Friday 4 – 8 pm; Saturday 12 am – 5 pm
BcmA Gallery, Manteuffelstr. 42, 10997 Berlin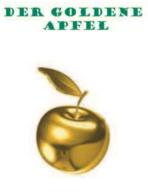 posted in 22/01/23
Der goldene Apfel
23. März – 2. Juli 2023
Interdisziplinäre Ausstellung zum Kreisjubiläum
Kuratorin: Heike Frommer, Galerie Bodenseekreis
Als Symbol wird der Apfel gewählt, der zum "Gold der Region" gehört. Dass der goldene Apfel auch in Mythologie und Märchen eine Rolle spielt, führt zu der Idee, die Kreisreform in Form eines Märchens zu erzählen. Außerdem werden Gemälde und Zeichnungen von Künstler*innen der Region präsentiert, die sich mit dem Thema "Apfel" befassen.
ROTES HAUS I Galerie Bodenseekreis
Am Schlossplatz 13, 88709 Meersburg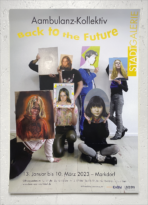 posted in 12/12/22
Back to the Future
Aambulanz-Kollektiv: Michel Castaignet, Kathrin Landa, Florence Obrecht, Axel Pahlavi, Alexej Tchernyi, Alex Tennigkeit, Wu Zhi
Vernissage: Freitag, 13. Januar 2023, 19 Uhr
Einführung: Katharina Schilling
Führung: Samstag, 14. Januar 2023, 11 Uhr mit dem Kollektiv
Laufzeit: 13. Januar – 10. März 2023
Im März erscheint ein Katalog, herausgegeben vom Kunstverein Markdorf.
Kunstverein Markdorf, Ulrichstraße 5, 88677 Markdorf; Tel. 07544 741360
Öffnungszeiten: Mi 15–17 Uhr, Do 10–13 Uhr, Fr 15–17 Uhr, Sa 10–13 Uhr & So 13–16 Uhr; Eintritt frei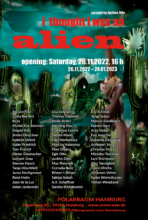 posted in 11/11/22
I thought I was an alien
Gruppenausstellung kuratiert von Justine Otto
Vernissage: Samstag, 26.11.2022, 16 h
Laufzeit: 26.11.2022 – 24.01.2023
Polarraum Hamburg
Heussweg 89, 20255 Hamburg
+4915221930573, Öffnungszeiten nach Vereinbarung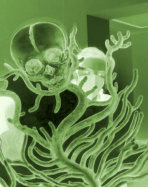 posted in 09/09/22
außer sich – inner ich
Eine Ausstellung des MalerinnenNetzWerk Berlin – Leipzig in Kooperation mit der Inselgalerie Berlin.
Vernissage: Donnerstag, 15. September, 19 – 22 Uhr
Laufzeit: 16.9. – 29.10.2022
Finissage: Samstag, 29.10.2022, 14 – 16 Uhr
Inselgalerie, Petersburger Straße 76 A, 10249 Berlin

posted in 06/09/22
La forêt de l'amour
Wir laden ein zu einer Ausstellung im Kunsthaus Laurent Kruppa e. V. in Liebenwalde, Openhouse am 1. und 2.10.2022, von 12.00 bis 18.00.
Mit: Nicolas Argenton, Michel Castaignet, Franz J. Hugo, Bernhard Grychta, Maria von Halle, Paulina von Halle, Laurent Kruppa, Florence Obrecht, Axel Pahlavi, Alexej Tchernyi, Alex Tennigkeit, Wu Zhi
Eberswalder Str. 41 | 16559 Liebenwalde, OT Hammer
Anmeldung | Kontakt: claudine.m.calvet@gmail.com | 015143201668

posted in 09/07/22
Le monde clair des bienheureux.s.e.x.s
With Mathieu Boisadan, Katia Bourdarel, Damien Comment, Dominique Delefortrie, Rosalie Evard, Valérie Favre, Cécile Giovannini, Niklaus Manuel Güdel, Martin Kasper, Lucie Kolher, Yannick Lambelet, Kathrin Landa, Nicolas Marciano, Lara Marino, Line Marquis, Lino Muff, Chloé Naucelle, Pat Noser, Florence Obrecht, Axel Pahlavi, Simon Pasieka, Michael Rampa, Olivier Robert, René Schoemakers, Marius Steiger, Gregory Sugnaux, Benjamin Taillard, Alex Tennigkeit, Caroline Tschumi, Romane de Watteville, David Weishaar, Katharina Ziemke
Curated by Corinna Weiss
Vernissage on August 19th, 2022, at 7 pm
20.08.2022 – 16.10.2022
QUARTIER GENERAL Centre d'art contemporain, Rue du Commerce 122, CH-2300 La Chaux-de-Fonds

posted in 20/06/22
'Essence of color – BLUE'
MalerinnenNetzWerk Berlin-Leipzig & Gastkünstlerinnen
Eröffnung am Freitag, 1. Juli 2022, um 18 Uhr
Ausstellungsdauer: 2.07. – 18.09.2022
Öffnungszeiten: Dienstag bis Sonntag 10 – 16 Uhr,
geöffnet am 15.08.2022 (Mariä Himmelfahrt)
Der Eintritt ist frei.
Städtische Galerie im Leeren Beutel
Bertoldstraße 9 | 93047 Regensburg
Tel. (0941) 507-2440 | Fax (0941) 507-4449

posted in 21/04/22
Future Flowers
Exhibition by Aambulanz-Kollektiv: Michel Castaignet–Kathrin Landa–Florence Obrecht–Axel Pahlavi–Alexej Tchernyi–Alex Tennigkeit–Wu Zhi
Finissage: Fr. 1. Juli 2022, 18 h
Vernissage: Fr. 29. April 2022, 18 h
Kostbar Gallery, Münzstr. 21, 2. HH,10178 Berlin